Project K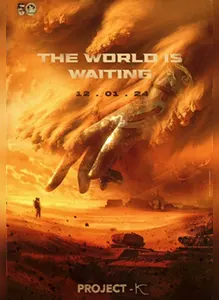 Project K is an upcoming Indian science fiction action film directed by Nag Ashwin. It features Prabhas, Amitabh Bachchan, Kamal Haasan, Deepika Padukone, and Disha Patani. The film is set to release in multiple languages on 12th of Jan
Sita Ramam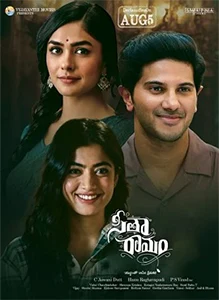 Sita Ramam is a 2022 Telugu romantic drama film directed by Hanu Raghavapudi. Lieutenant Ram, an army officer, receives anonymous love letters from Sita Mahalakshmi and embarks on a mission to find her and propose his love.
Jathi Ratnalu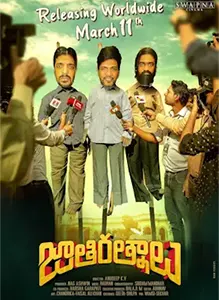 Jathi Ratnalu is a 2021 Indian Telugu-language comedy drama film directed by Anudeep K. V. The story revolves around three optimistic individuals who come to the city with dreams of a better life but find themselves wrongfully imprisoned.
Maharshi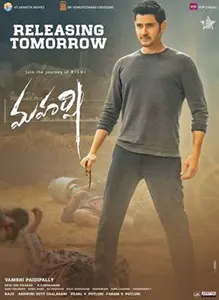 Maharshi is a 2019 Indian Telugu-language film directed by Vamshi Paidipally. It stars Mahesh Babu, Pooja Hegde, and Allari Naresh. The movie about a successful CEO who returns to his homeland, and embarks on a journey to bring positive change to society. It won awards for Best Popular Film and Best Choreography at the 67th National Film Awards
Devadas
Devadas is a 2018 Telugu action comedy film starring Nagarjuna Akkineni and Nani. It follows the story of a surgeon who befriends a crime boss and brings about a positive change in his life.
Mahanati
Mahanati is a 2018 Telugu biographical drama film based on the life of actress Savitri. Starring Keerthy Suresh, it depicts Savitri's rise to fame, her marriage with Gemini Ganesan, and her subsequent downfall. The film received critical acclaim and became the highest-grossing female-centric South Indian film
Yevade Subramanyam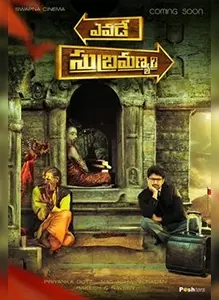 Yevade Subramanyam is a 2015 Telugu coming-of-age drama film directed by Nag Ashwin. It follows Subramanyam's (Nani) journey of self-discovery. Notably, it became the first Indian film ever shot at the Everest Base Camp.
Sakthi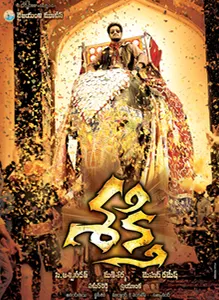 Sakthi is a 2011 Telugu fantasy action film starring Jr NTR and Ileana D'Cruz. It follows the story of Sakthi, who protects Aishwarya from a terrorist group while unraveling the secrets of a magical gem
Baanam
Baanam is a 2009 Telugu action drama film directed by Chaitanya Dantuluri. Starring Nara Rohit and Vedhika, The story revolves around a man named Baanam who finds himself caught in a web of crime and corruption, leading him on a path of vengeance and justice.
Kantri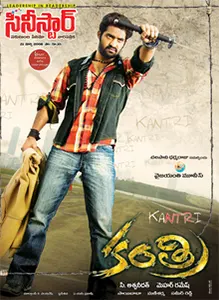 Kantri is a 2008 Telugu action film starring Jr. NTR, Hansika Motwani, and Tanisha Mukherjee. It follows the story of a man seeking revenge against a powerful businessman who betrayed his family.
Kathanayakudu
Kathanayakudu is a 2008 Telugu drama film about the friendship between a villager and a cinema actor, starring Rajinikanth in a guest appearance. Their paths diverge, but they reunite when the actor returns to the village.
Chirutha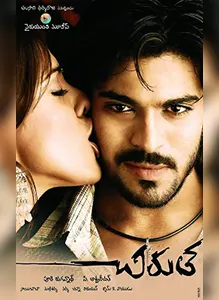 Chirutha is a 2007 Telugu action film directed by Puri Jagannadh. Charan seeks revenge on the gangster who killed his parents, leading to a series of events in Bangkok involving love, betrayal, and a final showdown
Sainikudu
Sainikudu is a 2006 Telugu political action drama film directed by Gunasekhar. Siddharth fights against corrupt politicians after a flood relief scam and kidnaps the Home Minister's bride to expose his crimes
Jai Chiranjeeva
Jai Chiranjeeva is a 2005 Telugu action comedy film directed by K. Vijaya Bhaskar. Sathyanarayana seeks revenge for his niece's murder and travels to Los Angeles with his wife to confront the arms dealer responsible
Subash Chandra Bose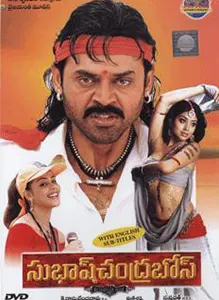 Subash Chandra Bose is a 2005 Telugu historical action drama film directed by K. Raghavendra Rao. It follows the story of Ashok, who discovers his past life as freedom fighter Subash Chandra Bose and seeks revenge against his betrayer.
Balu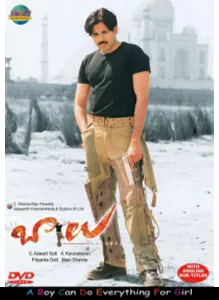 Balu ABCDEFG is a 2005 Indian Telugu crime action film directed by A. Karunakaran. It follows the story of Balu, who fights for the rights of the Mahankali market and seeks revenge against Khan
Indra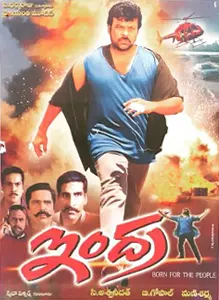 Indra is a 2002 Indian Telugu action drama film directed by B. Gopal. It tells the story of Indrasena Reddy, who becomes the leader of his clan and seeks to end the violence between two rival families
Company
Company is a 2002 Indian Hindi gangster film directed by Ram Gopal Varma. It follows the rise and fall of Chandu, a henchman in the Mumbai underworld.
Premakke Sai
Premakke Sai is a 2001 Kannada romantic comedy film directed by A. Kodandarami Reddy. The movie revolves around the lives of three friends who embark on a journey of love, friendship, and self-discovery. It is a remake of the Telugu film "Chiru Navvutho" and was also remade in Tamil as "Youth"
Azad
Azad is a 2000 Telugu superhero film directed by Thirupathisamy. It follows the story of Azad, a common man who becomes a symbol of justice and fights against a powerful mafia boss with the help of a journalist named Anjali.
Ravoyi Chandamama
Raavoyi Chandamama is a 1999 Telugu romance film directed by Jayanth C. Paranjee. It follows the story of Sasi and Meghana, who meet on a cruise and fall in love but must overcome obstacles to be together.
Rajakumarudu
Rajakumarudu is a 1999 Telugu romantic comedy film directed by K. Raghavendra Rao. It follows the story of Raj Kumar, who falls in love with Rani and must overcome obstacles to win her heart
Choodalani Vundi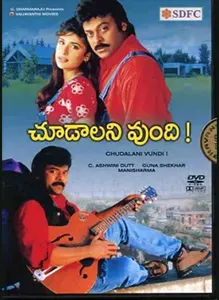 Choodalani Vundi is a 1998 Telugu action drama film directed by Gunasekhar. It tells the story of Ramakrishna, a mechanic whose life takes a dramatic turn when he meets Priya and must confront an underworld don to save his family.
Govinda Govinda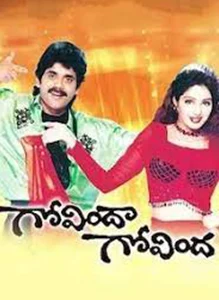 Govinda Govinda is a 1994 Telugu supernatural thriller film directed by Ram Gopal Varma. It follows the story of a theft planned by a tantric wizard in order to attain supernatural powers, and the journey of a couple to stop him and restore balance.
Subhalagnam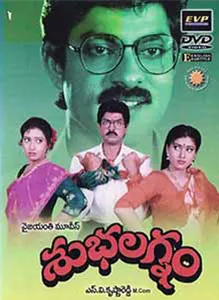 Subhalagnam is a 1994 Telugu film where a greedy woman agrees to let another woman marry her husband in exchange for a large sum of money, leading to a complex family dynamic and unexpected twists.
Aswamedham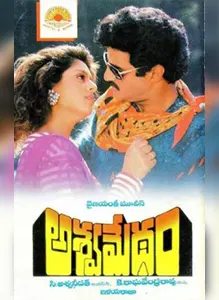 Aswamedham is a 1992 Telugu action film where cop Abhimanyu battles terrorist Vyaghra, with the help of his brother Kiriti and journalist Sowjanya, avenging his death and saving the nation.
Jagadeka Veerudu Athiloka Sundari
Jagadeka Veerudu Athiloka Sundari is a captivating Telugu fantasy film that tells the tale of a young man who must fulfill his destiny to rescue a celestial princess from an evil sorcerer.
Aakhari Poratam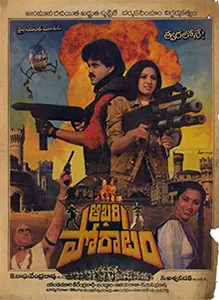 Aakhari Poratam is a 1988 Telugu action film where CBI officer Pravallika, aided by stage artiste Vihari, attempts to uncover the criminal activities of Anantananda Swamy.
Brahma Rudrulu
Brahma Rudrulu is a 1986 Telugu action film where Justice Jagadish seeks revenge against a malicious politician. He adopts his criminal nephew and fights to prove his innocence, ultimately avenging his wife's murder and surrendering to the law.
Agni Parvatam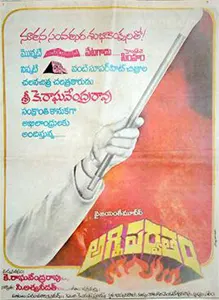 Agni Parvatam is a 1985 Telugu film. It follows Jamadagni's quest for vengeance against his father's treachery, aided by Chandram and Vijaya, as they confront powerful enemies and seek justice and love.
Adavi Simhalu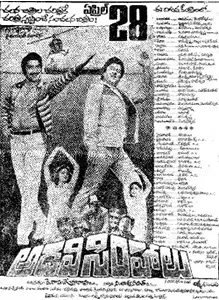 Adavi Simhalu is a 1983 Telugu action film. It follows the intertwining lives of Krishna and Raju, as they face danger, uncover hidden identities, and confront a vengeful criminal in a forest setting, with a touch of romance.
Guru Sishyulu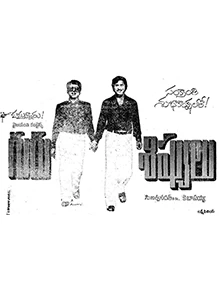 Guru Sishyulu is a 1981 Telugu comedy film. It follows the humorous and intertwined lives of two brothers, Kalyan and Gopi, as they navigate love, mistaken identities, and confront a gangster's malicious plans.
Yuga Purushudu
Yuga Purushudu is a 1978 Telugu action film. It follows Rajesh (N. T. Rama Rao) as he seeks justice, protects his loved ones, and confronts family feuds, with a touch of romance.
Eduruleni Manishi
Eduruleni Manishi is a 1975 Telugu action film. It follows Shekar (N. T. Rama Rao) as he seeks revenge against the criminals who killed his father, with unexpected alliances and a love story intertwined